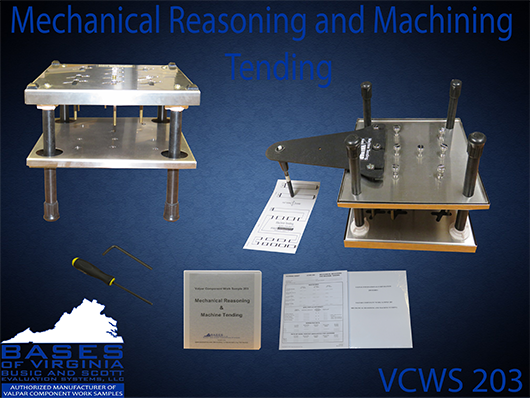 Purpose: To assess work skills involving machine tending, positioning and guiding items into a machine or under a needle; and assembling and disassembling various materials using hand tools. The work sample simulates sedentary work and assesses the following physical demands: reaching, handling, fingering, feeling, near acuity, depth perception, and accommodation. Significant motor coordination, manual dexterity, and finger dexterity are called for to perform the work sample exercises at a competitive level.
The work sample elicits information of several worker characteristics, including, among others, concentration skills, communication skills, and frustration tolerance.The work sample is well suited to work-hardening applications.
Design: Hands on work sample hardware used in five separate exercises.
Special Features: Scores may be interpreted against criterion-referenced standards or locally developed norms. It is appropriate for use with disabled or nondisabled persons.
Information Collected: The work sample exercises have each been analyzed according to U.S. Department of Labor job analysis techniques. Successful performance requires a variety of DOL aptitudes, physical demands, and other factors, collectively called the Worker Qualifications Profile or WQP.
Valpar uses Methods-Time Measurement (MTM) to establish industrial work rate standards for the exercises. The evaluator uses learning curve adjusted MTM standards and (for three of the five exercises) accuracy scores to determine whether the evaluee has demonstrated the work sample exercises' WQPs. Unadjusted MTM standards are also given for both single and multiple administrations of the exercises.
Procedures: Due to the short duration of the five exercises, two administrations are recommended (but not required) for the purpose of establishing WQP levels. In most cases, the work sample takes approximately 35 minutes to administer.
In the Assembly (Screws) exercise, the evaluee lifts and fastens one steel plate to another plate with hand screws while keeping the lifted plate level. In the Disassembly (Screws) exercise, the evaluee unfastens the screws fastened in the first exercise.
In the Assembly (Bolts) exercise, the evaluee lifts a steel plate and uses an allen nut driver to fasten it to bolts mounted on another steel plate above. In the Disassembly (Bolts) exercise, the evaluee uses the allen nut driver to unscrew each bolt and put the plate back into its original position.
In the Machine Tending exercise, the evaluee positions a mounted marking pen over cards and moves the cards according to instructions and printed diagrams so that appropriate markings are made on the cards.
Components:
1 four-legged unit containing three 11 3/4″ x 11 3/4″ steel plates
1 machine tending pen holder
1 felt tipped marking pen
1 allen nut driver
1 1/8″ allen wrench
10 sets of four erasable machine tending cards
1 pad of 100 scoring sheets
1 manual
Shipping Size and Weight: 20″ x 18″ x 16″ – 20 lbs.