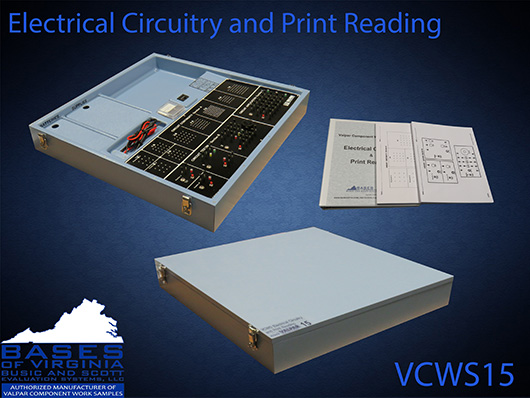 Purpose: To assess work skills related to understanding and working with electrical circuits. The evaluee uses a variety of tools to test for circuit continuity and repair circuits. S/he must also read electrical schematic prints and install wires, diodes, and resistors. The work sample simulates sedentary work and makes the following physical demands upon the evaluee: reaching, handling, fingering, feeling, near acuity, depth perception, accommodation, and color vision. Significant spatial aptitude, form perception, motor coordination, finger dexterity, and manual dexterity are called for to perform the work sample exercises at a competitive level.
The work sample elicits information on several work-related characteristics, including the ability to follow instructions, concentration skills, frustration tolerance, and self-confidence, among others. The work sample is well suited to work-hardening purposes.
Design: Hands-on work sample hardware in three sections with four timed exercises.
Special Features: Scores may be interpreted against criterion-referenced standards or locally developed norms.
Information Collected: Each of the three exercises of the work sample has been analyzed according to U.S. Department of Labor job analysis techniques. The analyses resulted in three lists of rated DOL work-related abilities and other factors that are required for successful exercise performance, called Worker Qualifications Profiles or WQPs.
Valpar uses Methods-Time Measurement (MTM) to establish industrial work rate standards for the work sample exercises. The evaluator uses learning curve adjusted error and work rate (in seconds) scores to determine whether the evaluee has demonstrated the work sample's several WQPs. Unadjusted MTM standards are also given to analyze single and multiple administrations of the work sample exercises.
Procedures: Due to the short duration of the second and third sections, multiple administrations of the exercises are recommended (but not required). In their standard format, all three sections take approximately 30 minutes to administer.
Section A: The evaluee uses probes and a meter to test for circuit continuity between contact points according to instructions and diagrams. The evaluee records results on answer sheets.
Section B: Following instructions and diagrams, the evaluee uses probes to test circuits. The evaluee records results of testing onto an answer sheet and repairs malfunctioning circuits by installing wires as indicated on the answer sheet.
Section C: Following schematic diagrams, the evaluee builds two separate working circuits. The first circuit requires only wires, and is disassembled after completion. The second circuit is constructed with wires, two types of resistors, and one type of diode.
Components: The work sample is a box constructed of 1/2″ particle board and covered with blue plastic laminate. The box is divided into several sections. The top section has several compartments for storage. The middle section is a panel upon which are mounted red and black probes, a meter, a light power cord, a counter, and schematics. The bottom section contains the working surface of the work sample. The power jacks, contacts, buzzer, lights, and terminal springs are mounted on panels in this section.
The following unmounted items are included:
8 AA 1.5 volt batteries (two sets of 4)
1 pad of 100 answer sheets for Section A
1 pad of 100 answer sheets for Section B
1 pad of 100 scoring sheets
1 plastic scoring overlay for Section A answer sheets
1 pair of needle nose pliers
1 set of silicon rectifying diodes
1 set of megohm (brown, black, green, gold) resistors
1 set of 15 ohm (brown, green, black, gold) resistors
1 set of pre-cut 20 gauge wires
1 plastic battery compartment lid
1 plastic parts compartment lid
1 5 1/2″ x 6″ Section C schematic
Shipping Size & Weight: 1 carton @ 26″ x 26″ x 8″ – 36 lbs.